In Memory of those friends no longer with us.
In Memory of Lois
My introduction to the plays of Shakespeare came not from watching Laurence Olivier in the film version of Henry the V. It came from watching my ninth grade sister, Lois, as Puck in A Midsummer Night's Dream. She was amazing as the tiny, mischievous, earthy and delightful imp and she outshone all the other performers at school. The next year she was Ariel in The Tempest, a more ethereal, more mature sort of Puck, just as magical and charming. She was again the outstanding performer in the play. Other roles, in Antigone, Doctor Doolittle, Romeo and Juliet, & Shoemaker's Holiday came and went through college and young adult life; all with the same vitality and the same level of professional style that had marked her debut as Puck many years before. I think I last saw Lois on stage in the 1960s in the Marilyn Monroe role of "The Girl" in The Seven Year Itch in Watchung, New Jersey. She was a gifted actress; as good as they come in school and Community Theater.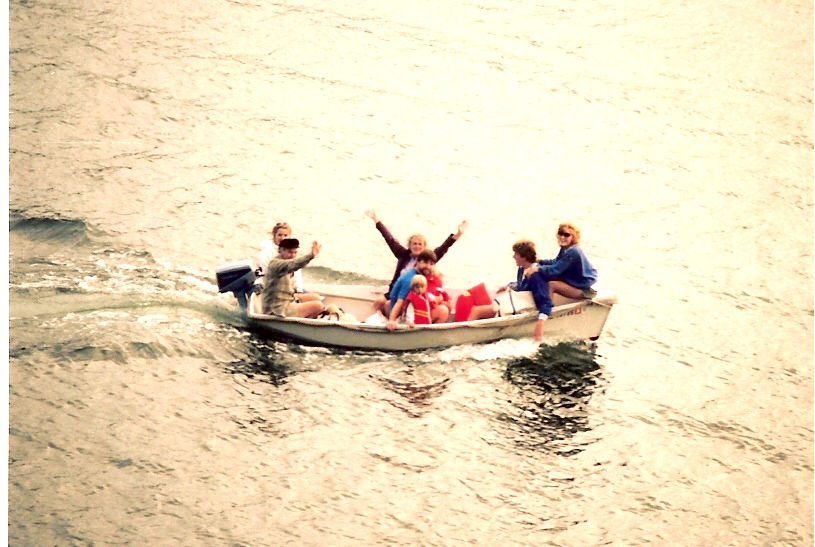 Most Brightwater-Wynburg folks do not know that part of her life. But I invite you to look at the old pictures of her in the 4th of July Horrible Parades as an Elephant, or at Betty Ewing's engagement shower where she is the Queen of Hearts or Snow White. You should see more than a hint of the actress's twinkle, the stage presence glowing through the old black and white snapshots.
Lois chose a different path, another career. She chose to be teacher, craftsperson, a published author, "hostess with the mostest", mother of Stephen, David and Lael and wife of her beloved Griffin Stabler. (where the three words LoisandGriff seem like a single word). These are what most of us will remember about Lois. She was a master teacher and taught graduate courses in education at Keene University. She is still remembered as one of New Hampshire's most gifted teachers in the 1970s and 1980s. She had the eye of an artist and hand of a master craftsman with the paint brush, needle and spinning wheel. She was a family historian and a "world's foremost authority" on premarital sex in colonial New Hampshire. And of course, many of you will remember parties in the Stabler log cabin, long into the night! An important hang out for Brightwater teens and young adults for years! And we all know how she adored Griff Stabler and was deeply involved in the lives of her children and grandchildren—and yes, great grand children.
But just look carefully beneath these more visible and tangible achievements and you will find Puck. You will find Ariel. You will find the charming seductress of The Seven Year Itch, and the warmth of the nurse in Romeo and Juliet. Just look at the little house in Wynburg where she and Griff spent their last summers in our community. Look at the schooner Ebb Tide "with a line for every child" or the little Hereshoff sloop, The Griffin. It is all there. The glow, the images, the stage lights, the scenery, the applause. These are what made it all work. The magic of the theater sweeps you away to the vibrancy of life and vitality where beauty, reality, joy and sadness are all mixed up as one life to remember.
Dick Kelly, August 2, 2008
WILBUR "BILL" BULL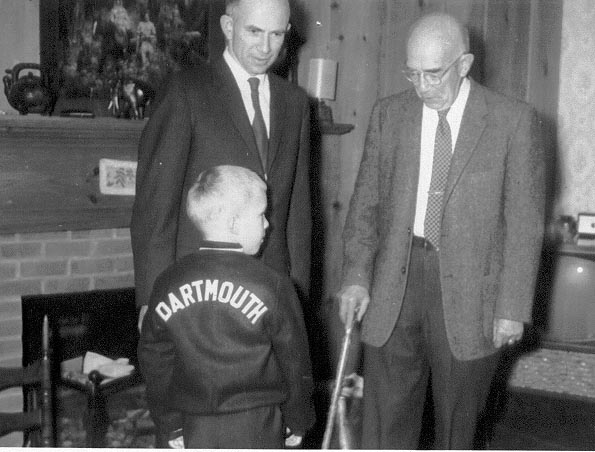 Three generations of Bulls
Bill Bull was born on Nov. 26, 1923, in Ashland, Maine to Reverend and Mrs. Wilbur I. Bull. Most of his youth was spent in Waterford, Maine, graduating from Gould Academy in 1940 and from Kimball Union Academy in 1941. He spent three years in the U.S. Navy during World War II. He served on the hospital ship Tranquility in the pacific theater. On returning, Bill attended Dartmouth College. He graduated from Dartmouth in 1949. Bill was a standout skier. Among his achievements, he captained the Dartmouth ski team, he was named an alternate to the U.S. F.I.S. Nordic Combined Ski team in 1952, he was a coach at the U. Of Vermont, he coached skiing at both Burlington and South Burlington High Schools, he was an official at the 1980 Winter Olympics at Lake Placid New York and he was the best water ski jumper that either Bridgie or I ever towed.
While teaching in Manchester at Burr and Burton Seminary he met fellow teacher Barbara Knapp. They married, and for more than 57 years lived happily together. They moved to South Burlington in1951 where Bill attended UVM earning an M.A.T. as a Graduate student. They had four children, Christine, Thomas, Susan and Peter. Bill had eight grandchildren. Other activities Barbara and Bill enjoyed were sailing, tennis, golf, folk dancing, canoeing, hiking and cutting their own firewood. Bill has been on both the faculties of Burlington and South Burlington High Schools where he taught Biology and Chemistry. He was well respected by his colleagues and students alike. In 1983, Bill was named Teacher of the year. In 1953 Bill and Barbara joined the First Congregational Church of Burlington where they have been active members. Bill was a founding member of the Green Mountain Habitat for Humanity. For twenty years he was a faithful building volunteer both at home and abroad.
In 1952 Bill and Barbara started coming to Brightwater. In 1969 Bills' parents gave their membership to Bill and Barbara. In 2005 the membership was turned over to Chris and Tom. In all the intervening years there is a lifetime of wonderful memories for most of us.
Who can forget the thirty-five years of sailing with the SEABIRD, the games of horseshoes, all the trails Bill blazed, between cabins, across Wildcat Ledge and out to Enoch's Nose, the wonderful sight of the Bulls sitting atop or beside Egg Rock viewing the awesome scene of the New Meadows River, the early morning walks or trots Bill and Barbara took out to Wally the Frog or the Meadowbrook Campground, the fantastic evenings spent playing a game of Scrabble, Anagrams or Dominos, the uplifting Sunday Sings they hosted, highlighted by Bill's flute playing and his incredible lesson on how to SPIT, and the immense energy that Bill exhibited on workdays?!! I fondly remember the waterskiing times with Bill, Tom and Peter, and the most enjoyable games of golf we had at Sebasco.
My memory of Bill Bull is that of a gentle, kind and considerate man. He always put the needs of others before his own. While not a man of large stature he was a giant of a man who personified the saying, Do Unto Others. 146, the Boulevard will never be the same.
The world is a richer place because of his presence in it.
Bill Holcomb July, 2008