Race Reports 2006
Theyíre Off! 9th July 2006
After the disappointment of the previous week when racing was called off, probably unnecessarily, a fine day dawned which turned out to be better than the forecast by some distance!
9 fine boats turned out, better than expected by the organisers, and ranged in size from the Sunfish of Bob Wilbur to the 38 ft Tartan, now renamed Fine Cut, in the hands of Geoff and Anita Leighton. There were three Typhoons, one of each type made as well as the little Bulls Eye Of Macy Whitehead, the fine Crocker of Jim Loney and the Gypsy of Ky keen to get a race under his belt after last years aborted effort. By no means last was the O Boat, Spindrift, of Harris Whitehead making a very welcome if tardy, reappearance after many years ashore. The start caught a few people out but a number of boats were right on the line and the Sunfish gave Pattie-B Too a moments concern as she sailed ever closer to a moored motor boat and couldnít tack without ramming the little boat. Once everyone was clear of the line Pattie-B Too was windward boat but just a bit behind 1st Place with the Sunfish between the two. Slightly further back were Cleo, pointing highest and Shearwater, Kyís Gypsy and the O boat. Various routes to Sheep Island buoy were tried but Pattie-B was first to the mark followed by 1st Place and Cleo almost neck & neck. These latter two gained on the leader as the neared HoJo mark but couldnít quite close the gap. Positions stayed the same across to Rich manís buoy and back with a duel developing between the Gypsy and the Sunfish which seemed very evenly matched. Tarka and Fine Cut started as the smaller boats approached Sheep Buoy, the start of a race long battle that saw real match racing tactics employed.
The O Boat had a senior moment when the tiller came out and the rudder started to float away as they rounded a mark! Fortunately everything was reassembled and they gradually worked their way through the fleet taking the lead on the water just after rounding Sheep for the second time. 1st Place would have lived up to their name but for the incessant motorboats which circled them slowing them down and rocking them out of contention! Pattie-B would never have been caught had they not lost a batten in their mainsail that caused them to lose all the power from that sail and Ky would have won if he had not become entangled with a Lobster Pot.
In the end The Whiteheads took 3 of the first 4 places split only by the 3rd place of Geoff & Anita in Fine Cut, another boat renamed since last year.
Cleo was a well deserved winner from the Gypsy on Handicap with line honours going to Spindrift from Pattie-B Too, these two being the only boats not to get swallowed up by the big boats!
Time keeping was by Bill & Margaret Holcomb and Bruce & Kathy Kirkham and both parties did a fine job. Our thanks to them!
1st Cleo Macy Whitehead and Gee Gee Ayres
2nd Gypsy Ky Whitehead
3rd Fine Cut Geoff & Anita Leighton
4th Spindrift Harris, Tom, Celia, Carla, and A N other
(Excuses in Blue to add a nautical flavour, lies in red)!
In next Sundayís race any small single-handers should start on the 5 minute signal (13.55) so as not to get caught up among larger boats at the start.
Otter this world! 16th July 2006
It was one of those lazy mornings. Foggy river which cleared as the sun got up, bit of light work around the house and a phone call to arrange a ride in 1st Place. Another phone call, this time from Lori. Can you help launch Flying Scot? Of course and off we go. One or two problems with rigging, wind gets up and decide to sail with Lori back from town launch ramp. Still plenty of time and with a bit of help from some locals, weíre rigged and on our way. As weíre about half way back sudden realisation dawns that the marks havenít been laid! Just over 30 minutes to go and panic sets in. Rush to car, rush to cabin, rush to boat, rush to Start area, throw in mark, rush to Rich Manís, throw in mark, rush to Hojo to park motor boat. Now 1.40. Decision made to swap boats and sail with Lori and Geoff. Start delayed by 15 minutes to allow crews to get in new boats and all seems to be well, but then again the race hasnít started! Coming up to the line early, trying to lose way when the horn goes. Lost way too successfully and canít clear the mark in the tide which was to feature in a lot of peoples excuses today!. Bear away to take our penalty turns while others also seem to be struggling a bit. As we approach the line, weíre still not last and we head off up the river behind Spindrift and others. Kyís Gypsy & the Kellys in Spruce started 5 minutes earlier but are struggling to get up the river as the tide pushes them back. Which side of the river to go. Our decision to head over to Sheep is curtailed when Spindrift comes back at us on Starboard and we tack to avoid a collision taking us back to Harringtons Point. Still OK as the merry Whithead crew in Spindrift tacks back. We follow suit only for Lori to be left with no mainsheet as the pulley comes away from the lower fixing on the rudder. Eventually we find another shackle and a place to attach it in the boat and start off only to realise that the tiller is not fixed to the rudder any meaningful sense so we head back to dock to see if we can affect repairs. With no bolts of the right proportions to be found we eventually decide 2 large nails might work if hammered over and that repair is completed just as the fleet sweeps past on their way to Rich Manís.
Spindrift is leading Tom, Bevan & Lionel in Cleo but Tarka with Jim & Bert, starting 10 minutes later has already overtaken everyone except these two. Next through is Ladyship seconds ahead of Shearwater. The other two Typhoons are a bit further back and Rink & Phil in Sage are closing fast on the tail enders. Spindrift, flying on the double reach to Rich Manís and back has kept Tarka behind her but Cleo succumbed, although going well and being chased hard by Ladyship. Back to Rich Manís and a few people struggled with the tide on this lap. Wind had dropped a bit and the mark just seemed to elude many boats. Different methods were tried to round it such as the ďsqueak pastĒ by Pattie-B Too, the ďtack again & againĒ by the Flying Scot, the ďdouble hand offĒ by Eric, Mary & Barbara June in 1st Place and Iím sure there were more.
After the race was ĺ done, Tarka had already taken the lead from Spindrift with Cleo a strong 3rd. The Flying Scot had overtaken all but these three after their earlier mishaps albeit having failed to complete the first leg and so out of the main results. Pattie ĖB Too had narrowly overtaken Ladyship but was to lose out again on the reach to Rich Manís. Shearwater with Debbie, Vicki & Phil held on to finish 1st Typhoon and 38 seconds in front of Ladyship who was in turn just over a minute ahead of Jim & Jacquie in Pattie-B Too who, in turn were just over a minute ahead of 1st Place. Itís hard to finish ahead of 1st Place and still not win! Ky did well to finish in difficult conditions. Flying Scot would have won easily if the mainsheet and Tiller had held together. Harris said it would be OK.
1st Tarka 2nd Cleo 3rd Spindrift

Time keeping was by Eleanor, Rollie, Gary & Wendy who did a fine job as usual!
Next Sundayís race (23rd July) any small single-handers should start on the 5 minute signal again (13.55) so as not to get caught up among larger boats at the start. Large boats at 14.10 as per usual.
Pattie-B Sneaks home 23rd July 2006
Weather was iffy on Sunday morning and the phone kept ringing with enquiries about whether the race was on or not. It was cooler and the wind was from the North but blowing OK. Of course when it got close to start time the wind dropped and few were stranded too far from the line when the horn went. Two Marshall Cat Boats were hanging around and were invited to join in. Rosamund with a red sail had been seen before and was accompanied by Lily who was over the line at the start. These boats are very quick for their handicap. With a following wind the boats drifted off to Sheep pretty much together with Humble Pie getting some clear wind and making like there was a good breeze. It was worth watching her though as about a 3rd of the way there she hardened in her sails to denote that the sea breeze had filled in and it was back to normal if somewhat less breezy than in previous weeks.
Humble Pie was comfortably first to Sheep followed by the 2 Cats, Spindrift and the Flying Scot. Cleo took a long tack over to the Narrows, which didnít turn out too well and left Gypsy, who had followed them, becalmed behind Harringtons. Although Fine Cut was on the line they appeared to have some early problems allowing Tarka to take a lead they were never to lose. By the time everyone had arrived back at HoJo Humble Pie seemed practically at Rich Manís but she lost her way there for a while in what turned out to be a pivotal moment of the race for them. Rosamund got ahead of Lily while the Flying Scot struggled in the dirty air from Spindriftís large main. Pattie-B Too was hanging on to the coat tails of these two closing right up to the Flying Scot at Rich Manís and having to overshoot the mark to avoid a collision. Behind, Cleo and 1st Place seemed to be inching ever closer. In turn they had their eyes on Tarka and Fine Cut who were hauling them in. All this happening in slow motion. 1st Place succumbed to Mal de Mere and forgot to round the buoy at Rich Manís costing them 3rd place!
The Flying Scot dropped down to leeward on the reach back to the finish and just pipped Spindrift on the line! But Pattie-B sneaked in ahead of Cleo and Spindrift by 7 and 32 seconds respectively!
Time keeping was by Eleanor, Rollie, Gary & Jacquie Price this week making her debut on the watch and once it was agreed which watch to use, all the results tallied.
Next Sundayís race (30th July) any small single-handers can start on the 5 minute signal again (13.55) so as not to get caught up among larger boats at the start. Large boats at 14.10 as per usual.
Sagacity wins the day! 30th July 2006
A race of two halves was the order of the day as a strong morning Northerly weakened before race time and it was then a question of when and how much. There were additions to the fleet at the big and little ends, the Laser Sweet Pea making her debut and starting 5 minutes early which was to prove a disadvantage after the initial first leg to Sheep & back, which she won comfortably with an elapsed time 2 minutes quicker than Humble Pie, the next quickest. The rest of the fleet was pretty bunched up to the mark and then spread out as different routes back were tried but the big advantage on the day was for the large boats, 5 of them, who effectively had 10 or 15 minutes less time to sail before the wind filled in from the South and boy did it fill in!
Previous indecision of which tack to be on was gone and it was all hands to the sheets to trim and balance the boats. Catspaw was making a welcome outing for the first time this year and was leading the three Typhoons till Rich Manís when they dropped back, (no excuses available). 1st Place, initially last, managed to claw back to defeat Pattie-B Too at the end by just 7 seconds with some defensive sailing on the last reach.
As the author sat becalmed ĺ of the way to Rich Manís he could see the wind filling from the South and Humble Pieís bow wake as she steamed up to halve the gap between us. Finally it filled and we were off in a good sitting out breeze but about to make the first serious mistake of the day when electing to sail below the oncoming fleet on the reach back to HoJo. The Laser is a very light boat and as each boat passed up wind the wind shadow would rock the boat unless reactions were spot on. 9 times they were but on the 10th time over I went backwards leaving the boat upright. First effort to get back in brought the boat into the water on top of me and then it was a question of swimming round to the the centre board to right it again. Second time was OK but as I climbed back in, Humble Pie swept past at high speed.
By ducking inside Maryís boat at the mark when Humble Pie chickened out the lead was regained but only for a few seconds as Humble Pie steamed off to to Sheep for the second time. By pointing higher but going slower Sweet Pea was able to stay in touch but the next threat was appearing from behind in the shape of Patriot, a visiting C&C 35 with Tom Whitehead and family aboard. They were flying but so were Humble Pie & Sweet Pea and a narrow lead was held till the last reach back from Rich Manís when I dropped the main sheet allowing the big boat to surge through and the approaching Sage, on Port tack and to windward, forced Sweet Pea, on Starboard and leeward boat, to take the long route round Maryís boat. No protest was made and therefore no penalty incurred but we all need to think ahead if accidents are to be avoided.
Of the main fleet starters, at the end of the first lap Spindrift was a minute ahead of Pattie-B Too who in turn was a minute ahead of Cleo who was 1 minute ahead of Catspaw who was 1 minute ahead of 1st Place, who was last! All this was to change on the 3rd leg as two of the three Typhoons made a Horlicks of the beat up to Sheep (you know who you were!) and the final die were cast. After handicaps were adjusted, 4th, 5th, 6th, 7th & 8th Place were all within 1 minute and 6 seconds of each other so the smallest errors counted for a lot. If only!
Glory on the day went to the big boys though with Rink Dupont and Phil Goiran in Sage a strong 1st, Tarka 2nd and Fine Cut 3rd, Cleo sneaking 4th 17 seconds ahead of Spindrift.
To put the handicaps in perspective, in a 90 minute race, Humble Pie, as the ďfastestĒ boat has to finish 27 seconds ahead of Tarka, 4 minutes ahead of Sweet Pea and Fine Cut, 13 minutes ahead of Spindrift and about 18 minutes ahead of Cleo and the Typhoons! Just 36 seconds quicker yesterday and she would have finished 4th!
Time keeping was by Wendy Price & Mary Hobart with good help from Anya Schwabe & Gregory Kidger. Thanks to them for enduring the rocking for 2 hours in the wind & sun!
Next Sundayís race (6th August) any small single-handers can start on the 5 minute signal again (13.55) so as not to get caught up among larger boats at the start. Large boats at 14.10 as per usual.
Yesterdayís positions
1st Sage
2nd Tarka
3rd Fine Cut
4th Cleo
Humble Beginnings 6th August 2006
Beautiful weather and steady wind from the South meant perfect sailing conditions and the punters responded! 19 boats, a record for this year saw great, close racing with only a couple of incidents, fortunately minor in nature but potentially serious. The answer to all this is to COMMUNICATE. Even if you are right of way boat, make your intentions known early. The most likely situation for this is at the HoJo mark where boats are meeting and the right of way boats, in these conditions, are the boats coming back from Rich Manís. However itís not as clear as it could be because some elect to harden up and carry on to the shore while others tack at the mark so the chap coming down from Sheep doesnít know where to put himself. TALK!
Phil Goiranís Second Chance had her first outing this week and we also were joined by the Luecke Thistle, complete with new rudder and Ann Bridgeman in Rosamund who was carrying a reef but no dog. Union Maid was also about after losing their mast a couple of days earlier but although starting they kept clear thereafter.
The Thistle showed early on that it was a fast boat, hotly pursued by Humble Pie, Spindrift and the Flying Scot. Pattie-B Too was next up with Cleo leading the other Typhoons and Diastole who had some trouble getting out of the clutches of the Narrows and started just before the big boats. Ky in Gypsy and Luke in the Sunfish started early but were soon overhauled by the larger boats though both did well on handicap. This win was not the first for Humble Pie as I had suspected, but the first with such a large turnout, to equal the last race of last year.
The bigger boats didnít have it all their own way this week though Melody, also making her debut for the year was the pace boat amongst them and upped the stakes for those big boys that thought they had things sewn up.
Cleo and 1st Place were having a running battle, changing places on each leg but the difference between them was never as much as a minute after the first leg. Rosamund with her reef in was noticeably slower this week than a fortnight ago when she was a comfortable handicap winner from Lily, the other Catboat. Her handicap was been cut accordingly!
Speaking of Catboats the Shoal Cove race is on Saturday August 19th with skippers briefing at Noon. All welcome.
Spindrift seems to improve every week in spite of handicap cuts and her third place puts her well in contention for the trophy just behind Tarka and ahead of Cleo and Pattie-B Too. Humble Pie is also a strong contender with just three races completed and with three more races to go till the trophy is decided a current outsider could also sneak in. Pattie-B kept her powder dry, with help from Mary, finishing just 24 seconds behind the Thistle and 8 seconds ahead of the Sunfish. The Flying Scot finished 10th, 23 seconds behind Second Chance and just 9 seconds ahead of Fine Cut. Diastole seemed to be on the pace with Cleo and the Typhoons and with a more timely start could have finished a number of places higher. Talking of late starts, the old master, Charlie Whitehead was at it again, just getting out of bed at the 5 minute horn. He would have made it but forgot to brush his teeth and had to go back.
Ky & Luke were separated on the water but the Sunfish only pipped Gypsy by 11 seconds on handicap. Shearwater had a quiet day although going well on the first lap they dropped off the pace thereafter. Many of the smaller boats were slower on the second lap as the wind dropped a bit but the bigger boats didnít seem to suffer in the same way.
All in all a lovely sail, and hopefully conditions will be repeated this coming weekend.
Time keeping was by Eleanor & Rollie with back up team of Bruce & Cathy Kirkham from the stability of the Lawn this week. Many thanks!
Yesterdayís positions
1st Humble Pie
2nd Melody
3rd Spindrift
4th Tarka
5th Thistle
As always excuses in blue, lies in red!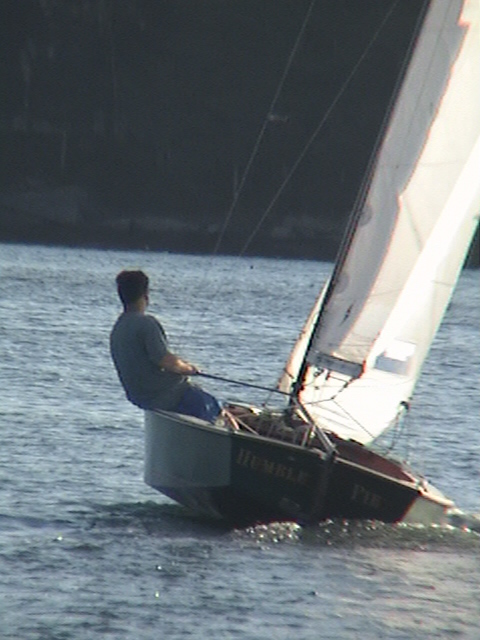 Next Sundayís race (13th August) any small single-handers can start on the 10 minute signal (13.50), 5 minutes earlier than before, so as not to get caught up among larger boats at the start. Large boats at 14.10 as per usual.
Nick
1st Place is the Daddy! 13th August 2006
It was blowin some on the 13th,, a chilly wind from the West North West that had everyone thinking. Thinking, should I go out there? Should I let the race go on? In the event turned out to be a fun if confusing day and everyone had their story about the fluky wind. With a running start a number of boats were over the line including Humble Pie and Tarka but both made good recoveries. With a broad reach to Sheep and a close reach back the real question was how to get to Rich Manís? On the first lap Humble Pie and 1st Place stayed on port tack, hardened up and made time on Spindrift, Pattie-B and Cleo. Humble Pie was already disappearing in the distance. This lead was maintained on the 3rd leg to Sheep but on the final leg to Rich Manís Spindrift was the fastest boat in the whole fleet overtaking 1st Place, (if you see what I mean) to turn a 2 minute deficit on them into a 2 minute lead! Tarka was hauling in Melody but a smart move by Melody at the approach to the buoy left Tarka and 1st Place floundering in the tricky wind that was a feature of that mark.
Pattie-B Too, who had been going well, sailed off down the river after rounding the HoJo mark for the last time and lost out badly to Cleo who took 4th place from them by just 5 seconds on handicap. Rosamund started with a reef, not unwisely, but found that it was just too big a handicap and lost more time shaking it out halfway through the race.
Humble Pie, quickest on the first two legs could not maintain that pace and were the only boat to go slower on the second lap than the first. Was it because they were so fast on the first lap? I donít think so. 10 minutes faster than Cleo on the first leg to Rich Manís they were only 23 seconds quicker on the last leg! Choice of course was everything and the Whiteheads showed they knew the way to go. Do they sit in their cabin watching the wind on the river, making notes? All credit to them in any case
Tarka, followed by 2nd Chance were the two fastest boats on the 3rd leg, to Sheep but, as I said above Spindrift was faster than everyone on the last leg to Rich Manís. How did they do it? Tarka and Melody were the next quickest.
Fastest elapsed time for a 2 lap race this year goes to the Luecke Thistle by 1 minute 24 seconds from Humble Pie with Melody just pipping Tarka (current leader for the 2006 series) for 3rd place.
Time keeping was by Bruce and Cathy with assistance from Wendy and vocal encouragement from others. Start was 5 minutes late to allow the Whiteheads to get to the line! Many thanks!
Sundayís positions
1st 1st Place
2nd Melody
3rd Humble Pie
4th Cleo
As always excuses in blue, lies in red!
Next Sundayís race (20th August) any small single-handers can start on the 10 minute signal (13.50), 5 minutes earlier than before, so as not to get caught up among larger boats at the start. Large boats at 14.10 as per usual.
Jessies stay home! 20th August 2006
In atrocious conditions only 5 boats ventured out into the rain doldrums and high wind from all directions that made this race the hardest of the year so far. It was interesting to see who had the bottle and who was at home by the fire. Youngest competitor was 2 year old Bram in Pattie-B Too though he did snore most of the way round.
Wind around the start area was tricky and a carefully planned run on the start line went badly wrong for Pattie-B Too and left them sitting and watching as 3 of the other 4 competitors duked it out on the start line, two of them being lucky not to be disqualified for foul language!
By the time Pattie-B made it to the line the others were half way to Sheep and only Lori in the Flying Scot, who was still leaving her mooring, made us feel good. The leaders were still together when they reached Sheep and there were some more altercations there before Humble Pie finally got their act together and led the little group back to HoJo. This lead was extended as Spindrift and Cleo struggled in the windless conditions by the mark while Pattie-B did her best to make up a bit of time.
Humble Pie got a break with the wind from Rich manís back to the finish, only 1 lap being sailed in the terrible weather.
In view of the difficulty of the conditions the race committee has decided to award triple points to all those who turned out and Humble Pie with Moose Schwabe and Cookie Kidger made light of the problems to record their second win of the year and a valuable 15 points putting them top of the table with Cleo. Former leader Tarka has been pushed down into a tie for 3rd with Spindrift but it is hard to see how they can make up for their error in assuming things were sewn up.

!

Time keeping in the horrible conditions was by Wendy, Zelda & Mary with no one else to be seen. Many thanks!
Sundayís positions
1st Humble Pie
2nd Cleo
3rd Spindrift
4th Pattie-B Too
5th Flying Scot
As always excuses in blue, lies in red!
Next Sundayís race (27th August) will be the last of the 06 series and presentation of the Trophy will be at the excuses party afterwards or at 4pm if there is no sailing. The more people that sail the more possibilities there are of different winners!
Series Finale 27th August 2006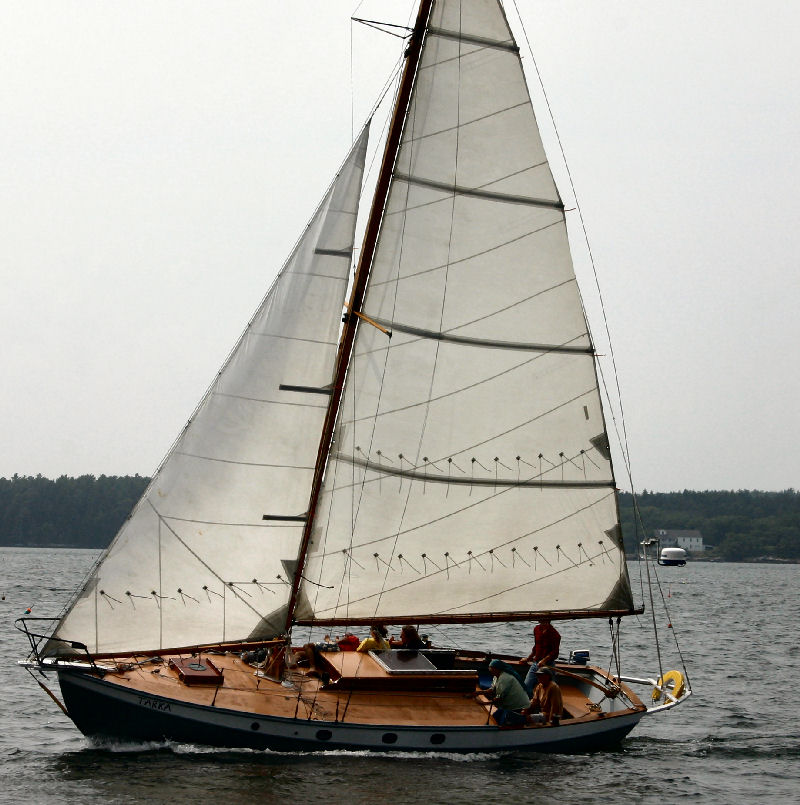 After the stay at home antics of the previous week a number of boats were shamed into making an appearance for the last race of the hotly contested 2006 series in which 28 boats took part. Ghost Dancer appeared yesterday for itís debut, a Bristol 32 with the familiar face of Anne Bridgeman aboard forsaking Rosamund this week.
Ky made a good start in Gypsy at ten to and Pattie-B Too made the best start among the middle classes although they seemed to be unable to point thereafter and lost a lot of time on the rest of the fleet on the long beat to the Sheep Island Buoy. Gypsy was first round followed by Humble Pie with Spindrift and the Flying Scot already locked in a battle which was to last the whole race. Cleo followed with Pattie-B having surrendered their good start to be last of the regular fleet. Three boats made up the large fleet with Tarka anxious to protect their series lead after last weekís fright!
Sage was lying second as Sheep was approached but Ghost Dancer rolled right over them, stealing their wind and never looked back! Ky was still holding off everyone except Humble Pie but by the end of the first complete lap the Flying Scot was just 20 seconds behind still holding off Spindrift. Cleo was a way behind these two slowly being hauled in by Pattie-B who were looking over their shoulder at Tarka who was closing fast.
The second beat up to Sheep and the run back saw Gypsy swallowed up by the main fleet but Ky was still making the little boat fly. Spindrift closed the gap on the three lasses in the Flying Scot but just couldnít close the deal, Tarka still behind these two but now ahead of Cleo and Pattie-B who had Ghost Dancer just 2 seconds behind as they set off for the last time to Rich Manís. Ghost Dancer also passed Cleo and Pattie-B but couldnít get any higher up the field after a good race and the 3rd fastest elapsed time.
When the dust had settled back at race HQ it was found that Gypsy had held off Humble Pie by 47 seconds to take a well deserved win while Tarka had come a strong 3rd to protect their series lead and win the Trophy for the first time. Jim & Bert showed very consistent form this year and were good winners by just 3 points from Humble Pie who pipped Spindrift into 3rd by a point! Cleo is always a strong contender and held off last years winner, Pattie-B by just two points. Gypsy finished 6th ahead of Fine Cut and 1st Place who won one race. Sage also won one race but couldnít get on terms in her other races to finish joint 9th while Melody also finished 9th with only two races to her name.
Seven different boats won races with only Humble Pie winning two though it wasnít quite enough to wrest the trophy. Humble Pie also gave us our fastest time ever of just under the hour for a two lap race in the last race of the series. Shades of things to come next year?
Itís been a good year, only the first race being cancelled and a new name on the trophy. Well done Jim Loney and his ever present crew Bert in the good ship Tarka, always a pretty sight on the river! (Thatís Tarka, not Jim!)
Time keeping was by Eleanor, Rollie & Gary with able back up by Bruce & Cathy.
Many thanks!
Sundayís positions
1st Gypsy
2nd Humble Pie
3rd Tarka
4th Spindrift
5th Flying Scot
As always excuses in blue, lies in red!
Next Sundayís race (3rd September) will be just for fun with the normal excuses party afterwards. Can we get another winner?
Any small single-handers can start on the 10 minute signal (13.50), 5 minutes earlier than before, so as not to get caught up among larger boats at the start. Large boats at 14.10 as per usual.
Full Results for year:-
| | | | | | | | | | | | | | | | | |
| --- | --- | --- | --- | --- | --- | --- | --- | --- | --- | --- | --- | --- | --- | --- | --- | --- |
| 9th July | Start | 1st 1/2 | lap | 3rd leg | finish | elapsed | handicap | Corrected | Place | Points | 1st leg | 2nd leg | 3rd leg | 4th leg | 1st Lap | 2nd Lap |
| Harris O-Boat | 14:00 | 14:30:03 | 14:45:51 | 15:13:05 | 15:28:34 | 1:28:34 | 104 | 1:25:10 | 4 | 6 | 00:30:03 | 00:15:48 | 00:27:14 | 00:15:29 | 00:45:51 | 00:42:43 |
| N&W Price Pattie-B Too | 14:00 | 14:27:50 | 14:45:01 | 15:13:25 | 15:30:13 | 1:30:13 | 105 | 1:25:55 | 6 | 4 | 00:27:50 | 00:17:11 | 00:28:24 | 00:16:48 | 00:45:01 | 00:45:12 |
| Cleo Macy & Gee Gee | 14:00 | 14:28:25 | 14:46:41 | 15:14:32 | 15:32:11 | 1:32:11 | 109 | 1:24:34 | 1 | 9 | 00:28:25 | 00:18:16 | 00:27:51 | 00:17:39 | 00:46:41 | 00:45:30 |
| Eric & girls 1st Place | 14:00 | 14:28:17 | 14:45:37 | 15:16:09 | 15:33:50 | 1:33:50 | 106.7 | 1:27:56 | 8 | 2 | 00:28:17 | 00:17:20 | 00:30:32 | 00:17:41 | 00:45:37 | 00:48:13 |
| Debbie & Vicki Shearwater | 14:00 | 14:31:33 | 14:48:53 | 15:20:35 | 15:40:04 | 1:40:04 | 113 | 1:28:33 | 9 | 1 | 00:31:33 | 00:17:20 | 00:31:42 | 00:19:29 | 00:48:53 | 00:51:11 |
| Bob Wilbur Sunfish | 14:00 | 14:30:15 | 14:49:19 | 15:26:02 | 15:44:16 | 1:44:16 | 120 | 1:26:53 | 7 | 3 | 00:30:15 | 00:19:04 | 00:36:43 | 00:18:14 | 00:49:19 | 00:54:57 |
| Ky Gypsy | 14:00 | 14:32:15 | 14:50:26 | 15:26:47 | 15:45:55 | 1:45:55 | 125 | 1:24:44 | 2 | 8 | 00:32:15 | 00:18:11 | 00:36:21 | 00:19:08 | 00:50:26 | 00:55:29 |
| Jim & Bert Tarka | 14:10 | 14:38:21 | 14:52:15 | 15:18:52 | 15:32:37 | 1:22:37 | 97 | 1:25:10 | 5 | 5 | 00:28:21 | 00:13:54 | 00:26:37 | 00:13:45 | 00:42:15 | 00:40:22 |
| Geoff & Anita Fine Cut | 14:10 | 14:38:27 | 14:51:28 | 15:17:38 | 15:31:22 | 1:21:22 | 96 | 1:24:45 | 3 | 7 | 00:28:27 | 00:13:01 | 00:26:10 | 00:13:44 | 00:41:28 | 00:39:54 |
| | | | | | | | | | | | | | | | | |
| 16th July | Start | 1st 1/2 | lap | 3rd leg | finish | elapsed | handicap | Corrected | Place | Points | 1st leg | 2nd leg | 3rd leg | 4th leg | 1st Lap | 2nd Lap |
| Ky /Gypsy | 14:10 | 15:03:30 | 15:21:43 | 16:08:01 | 16:26:14 | 2:16:14 | 130 | 1:44:48 | 8 | 4 | 00:53:30 | 00:18:13 | 00:46:18 | 00:18:13 | 01:11:43 | 01:04:31 |
| Kelly / Spruce | 14:10 | | | | | | | | RTD 11 | 1 | | | | | | |
| Wilbur / Ladyship | 14:15 | 14:53:47 | 15:07:33 | 15:47:48 | 16:02:36 | 1:47:36 | 102.5 | 1:44:59 | 9 | 3 | 00:38:47 | 00:13:46 | 00:40:15 | 00:14:48 | 00:52:33 | 00:55:03 |
| Kidger / Flying Scot | 14:15 | - - - | 15:12:25 | 15:43:00 | 15:56:40 | 1:41:40 | 91 | 1:51:43 | RTD 10 | 2 | | | 00:30:35 | 00:13:40 | 00:57:25 | 00:44:15 |
| Price / Pattie B Too | 14:15 | 14:56:08 | 15:11:52 | 15:47:43 | 16:04:11 | 1:49:11 | 106.7 | 1:42:20 | 6 | 6 | 00:41:08 | 00:15:44 | 00:35:51 | 00:16:28 | 00:56:52 | 00:52:19 |
| Whitehead / Spindrift | 14:15 | 14:49:19 | 15:03:30 | 15:35:37 | 15:51:40 | 1:36:40 | 101 | 1:35:43 | 3 | 9 | 00:34:19 | 00:14:11 | 00:32:07 | 00:16:03 | 00:48:30 | 00:48:10 |
| Maslen / 1st Place | 14:15 | 14:57:07 | 15:13:56 | 15:52:00 | 16:06:27 | 1:51:27 | 106.7 | 1:44:27 | 7 | 5 | 00:42:07 | 00:16:49 | 00:38:04 | 00:14:27 | 00:58:56 | 00:52:31 |
| Tom Whitehead / Cleo | 14:15 | 14:50:42 | 15:06:24 | 15:38:53 | 15:55:44 | 1:40:44 | 106 | 1:35:02 | 2 | 10 | 00:35:42 | 00:15:42 | 00:32:29 | 00:16:51 | 00:51:24 | 00:49:20 |
| Leighton / Shearwater | 14:15 | 14:54:00 | 15:09:53 | 15:44:02 | 16:01:58 | 1:46:58 | 106.7 | 1:40:15 | 5 | 7 | 00:39:00 | 00:15:53 | 00:34:09 | 00:17:56 | 00:54:53 | 00:52:05 |
| Dupont, Goiran / Sage | 14:25 | 14:58:06 | 15:11:59 | 15:46:05 | 16:00:54 | 1:35:54 | 100 | 1:35:54 | 4 | 8 | 00:33:06 | 00:13:53 | 00:34:06 | 00:14:49 | 00:46:59 | 00:48:55 |
| Loney /Tarka | 14:25 | 14:53:15 | 15:05:21 | 15:33:33 | 15:47:15 | 1:22:15 | 89 | 1:32:25 | 1 | 11 | 00:28:15 | 00:12:06 | 00:28:12 | 00:13:42 | 00:40:21 | 00:41:54 |
| | | | | | | | | | | | | | | | | |
| 24th July | Start | 1st 1/2 | lap | 3rd leg | finish | elapsed | handicap | Corrected | Place | Points | 1st leg | 2nd leg | 3rd leg | 4th leg | 1st Lap | 2nd Lap |
| Ky /Gypsy | 13:55:00 | | 15:46:52 | | | 1:51:52 | 139 | 1:20:29 | 8 | 2 | | | | | 01:51:52 | |
| Kidger / Flying Scot | 14:00:00 | 14:46:54 | 15:16:07 | | | 1:16:07 | 97 | 1:18:28 | 7 | 3 | 00:46:54 | 00:29:13 | | | 01:16:07 | |
| Macy/Heather Whitehead / Cleo | 14:00:00 | 14:52:14 | 15:20:22 | | | 1:20:22 | 106 | 1:15:49 | 2 | 8 | 00:52:14 | 00:28:08 | | | 01:20:22 | |
| Whitehead / Spindrift | 14:00:00 | 14:46:49 | 15:16:14 | | | 1:16:14 | 100 | 1:16:14 | 3 | 7 | 00:46:49 | 00:29:25 | | | 01:16:14 | |
| Schwabe / Humble Pie | 14:00:00 | 14:40:22 | 15:07:19 | | | 1:07:19 | 87.7 | 1:16:45 | 4 | 6 | 00:40:22 | 00:26:57 | | | 01:07:19 | |
| Maslen / 1st Place | 14:00:00 | 14:53:33 | 15:21:03 | | | 1:21:03 | 106.7 | 1:15:58 | RTD 9 | 1 | 00:53:33 | 00:27:30 | | | 01:21:03 | |
| Price / Pattie B Too | 14:00:00 | 14:48:57 | 15:17:13 | | | 1:17:13 | 102 | 1:15:42 | 1 | 9 | 00:48:57 | 00:28:16 | | | 01:17:13 | |
| Rosamund Cat Boat | 14:00:00 | 14:45:06 | 15:13:23 | | | 1:13:23 | 104.8 | 1:10:01 | (1) | (11) | 00:45:06 | 00:28:17 | | | 01:13:23 | |
| Lily / Marshall Cat | 14:00:00 | 14:44:31 | 15:14:37 | | | 1:14:37 | 104.8 | 1:11:12 | (2) | (10) | 00:44:31 | 00:30:06 | | | 01:14:37 | |
| Leighton / Fine Cut | 14:10:00 | 14:57:10 | 15:21:18 | | | 1:11:18 | 91 | 1:18:21 | 6 | 4 | 00:47:10 | 00:24:08 | | | 01:11:18 | |
| Loney /Tarka | 14:10:00 | 14:52:45 | 15:19:36 | | | 1:09:36 | 89 | 1:18:12 | 5 | 5 | 00:42:45 | 00:26:51 | | | 01:09:36 | |
| | | | | | | | | | | | | | | | | |
| 30th July | Start | 1st 1/2 | lap | 3rd leg | finish | elapsed | handicap | Corrected | Place | | 1st leg el | 2nd leg el | 3rd Leg el | final leg el | 1st Lap | 2nd Lap |
| Sweet Pea / Nick | 13:55:00 | 14:37:38 | 15:01:58 | 15:23:48 | 15:35:35 | 1:40:35 | 91.1 | 1:50:25 | 10 | 4 | 00:42:38 | 00:24:20 | 00:21:50 | 00:11:47 | 01:06:58 | 00:33:37 |
| Pattie-B Too / Jim & Jacquie Price | 14:00:00 | 14:55:31 | 15:10:50 | 15:38:55 | 15:54:21 | 1:54:21 | 106.7 | 1:47:10 | 8 | 6 | 00:55:31 | 00:15:19 | 00:28:05 | 00:15:26 | 01:10:50 | 00:43:31 |
| Spindrift / Whitehead | 14:00:00 | 14:55:00 | 15:09:44 | 15:33:06 | 15:46:21 | 1:46:21 | 100 | 1:46:21 | 5 | 9 | 00:55:00 | 00:14:44 | 00:23:22 | 00:13:15 | 01:09:44 | 00:36:37 |
| 1st Place / Maslen | 14:00:00 | 14:57:34 | 15:13:40 | 15:38:33 | 15:54:14 | 1:54:14 | 106.7 | 1:47:04 | 7 | 7 | 00:57:34 | 00:16:06 | 00:24:53 | 00:15:41 | 01:13:40 | 00:40:34 |
| Cleo / Macy | 14:00:00 | 14:55:42 | 15:11:47 | 15:36:36 | 15:52:26 | 1:52:26 | 106 | 1:46:04 | 4 | 10 | 00:55:42 | 00:16:05 | 00:24:49 | 00:15:50 | 01:11:47 | 00:40:39 |
| Humble Pie /Schwabe | 14:00:00 | 14:44:14 | 15:01:57 | 15:22:39 | 15:33:33 | 1:33:33 | 87.7 | 1:46:40 | 6 | 8 | 00:44:14 | 00:17:43 | 00:20:42 | 00:10:54 | 01:01:57 | 00:31:36 |
| Catspaw / Flinterman | 14:00:00 | 14:57:27 | 15:12:44 | 15:42:13 | 15:57:20 | 1:57:20 | 106.7 | 1:49:58 | 9 | 5 | 00:57:27 | 00:15:17 | 00:29:29 | 00:15:07 | 01:12:44 | 00:44:36 |
| Thistle | 14:00:00 | 14:56:21 | rtd | | Rtd | | | | (13) | (1) | | | | | | |
| Fine Cut / Leighton | 14:10:00 | 14:56:12 | 15:10:13 | 15:32:33 | 15:45:02 | 1:35:02 | 91 | 1:44:26 | 3 | 11 | 00:46:12 | 00:14:01 | 00:22:20 | 00:12:29 | 01:00:13 | 00:34:49 |
| Tarka / Loney | 14:10:00 | 14:55:34 | 15:08:24 | 15:29:06 | 15:41:35 | 1:31:35 | 89 | 1:42:54 | 2 | 12 | 00:45:34 | 00:12:50 | 00:20:42 | 00:12:29 | 00:58:24 | 00:33:11 |
| Sage / Rink Phil | 14:10:00 | 14:56:34 | 15:12:07 | 15:35:23 | 15:49:35 | 1:39:35 | 98 | 1:41:37 | 1 | 13 | 00:46:34 | 00:15:33 | 00:23:16 | 00:14:12 | 01:02:07 | 00:37:28 |
| Patriot / ?? | 14:10:00 | 14:55:01 | 15:06:45 | 15:24:25 | 15:35:21 | 1:25:21 | 75.5 | 1:53:03 | (12) | (2) | 00:45:01 | 00:11:44 | 00:17:40 | 00:10:56 | 00:56:45 | 00:28:36 |
| NB5 | 14:10:00 | 14:55:04 | 15:10:42 | 15:31:50 | 15:44:03 | 1:34:03 | 85 | 1:50:39 | (11) | (3) | 00:45:04 | 00:15:38 | 00:21:08 | 00:12:13 | 01:00:42 | 00:33:21 |
| | | | | | | | | | | | | | | | | |
| 6th August | Start | 1st 1/2 | lap | 3rd leg | finish | elapsed | handicap | Corrected | Place | | 1st leg | lap 1 | 3rd half | 4th leg | el 1st lap | elap 2nd lap |
| Schwabe - Humble Pie | 14:00:00 | 14:19:56 | 14:33:40 | 14:54:56 | 15:08:15 | 1:08:15 | 87.7 | 1:17:49 | 1 | 19 | 00:19:56 | 00:13:44 | 00:21:16 | 00:13:19 | 00:33:40 | 00:34:35 |
| Blachly - Melody | 14:10:00 | 14:30:24 | 14:44:16 | 15:06:44 | 15:20:43 | 1:10:43 | 90.6 | 1:18:03 | 2 | 18 | 00:20:24 | 00:13:52 | 00:22:28 | 00:13:59 | 00:34:16 | 00:36:27 |
| Harris - Spindrift | 14:00:00 | 14:21:50 | 14:36:27 | 15:00:46 | 15:16:13 | 1:16:13 | 97 | 1:18:34 | 3 | 17 | 00:21:50 | 00:14:37 | 00:24:19 | 00:15:27 | 00:36:27 | 00:39:46 |
| Loney - Tarka | 14:10:00 | 14:33:30 | 14:45:28 | 15:07:50 | 15:21:13 | 1:11:13 | 89 | 1:20:01 | 4 | 16 | 00:23:30 | 00:11:58 | 00:22:22 | 00:13:23 | 00:35:28 | 00:35:45 |
| Luecke - Thistle | 14:00:00 | 14:18:58 | 14:33:05 | 14:52:47 | 15:06:51 | 1:06:51 | 83 | 1:20:33 | (5) | (15) | 00:18:58 | 00:14:07 | 00:19:42 | 00:14:04 | 00:33:05 | 00:33:46 |
| Prices - Pattie-B Too | 14:00:00 | 14:23:34 | 14:39:32 | 15:06:03 | 15:22:36 | 1:22:36 | 102 | 1:20:59 | 6 | 15 | 00:23:34 | 00:15:58 | 00:26:31 | 00:16:33 | 00:39:32 | 00:43:04 |
| Luke - Sunfish | 13:55:00 | 14:23:29 | 14:45:56 | 15:14:10 | 15:32:20 | 1:37:20 | 120 | 1:21:07 | 7 | 14 | 00:28:29 | 00:22:27 | 00:28:14 | 00:18:10 | 00:50:56 | 00:46:24 |
| Ky - Gypsy | 13:55:00 | 14:26:47 | 14:49:38 | 15:28:05 | 15:48:00 | 1:53:00 | 139 | 1:21:18 | 8 | 13 | 00:31:47 | 00:22:51 | 00:38:27 | 00:19:55 | 00:54:38 | 00:58:22 |
| Goiran - Second Chance | 14:10:00 | 14:33:20 | 14:46:47 | 15:09:47 | 15:23:33 | 1:13:33 | 90 | 1:21:43 | 9 | 12 | 00:23:20 | 00:13:27 | 00:23:00 | 00:13:46 | 00:36:47 | 00:36:46 |
| Kidger - Flying Scot | 14:00:00 | 14:23:00 | 14:36:33 | 15:02:58 | 15:18:00 | 1:18:00 | 95 | 1:22:06 | 10 | 11 | 00:23:00 | 00:13:33 | 00:26:25 | 00:15:02 | 00:36:33 | 00:41:27 |
| Leighton - Fine Cut | 14:10:00 | 14:33:43 | 14:47:57 | 15:11:43 | 15:24:51 | 1:14:51 | 91 | 1:22:15 | 11 | 10 | 00:23:43 | 00:14:14 | 00:23:46 | 00:13:08 | 00:37:57 | 00:36:54 |
| Macy - Cleo | 14:00:00 | 14:24:14 | 14:43:46 | 15:12:04 | 15:28:46 | 1:28:46 | 106 | 1:23:45 | 12 | 9 | 00:24:14 | 00:19:32 | 00:28:18 | 00:16:42 | 00:43:46 | 00:45:00 |
| Maslen - 1st Place | 14:00:00 | 14:25:44 | 14:43:25 | 15:11:10 | 15:29:36 | 1:29:36 | 106.7 | 1:23:58 | 13 | 8 | 00:25:44 | 00:17:41 | 00:27:45 | 00:18:26 | 00:43:25 | 00:46:11 |
| Sidel - Diastole | 14:00:00 | 14:23:05 | 14:48:47 | 15:18:05 | 15:34:08 | 1:34:08 | 110.00 | 1:25:35 | 14 | 7 | 00:23:05 | 00:25:42 | 00:29:18 | 00:16:03 | 00:48:47 | 00:45:21 |
| Rosamund | 14:00:00 | 14:25:58 | 14:41:58 | 15:09:55 | 15:25:40 | 1:25:40 | 100 | 1:25:40 | (15) | (5) | 00:25:58 | 00:16:00 | 00:27:57 | 00:15:45 | 00:41:58 | 00:43:42 |
| Leighton - Shearwater | 14:00:00 | 14:26:18 | 14:43:30 | 15:14:37 | 15:31:40 | 1:31:40 | 106.7 | 1:25:55 | 16 | 6 | 00:26:18 | 00:17:12 | 00:31:07 | 00:17:03 | 00:43:30 | 00:48:10 |
| Charlie - Lightning | 14:00:00 | 14:24:44 | 14:38:47 | 15:02:08 | 15:16:11 | 1:16:11 | 87.7 | 1:26:52 | 17 | 5 | 00:24:44 | 00:14:03 | 00:23:21 | 00:14:03 | 00:38:47 | 00:37:24 |
| Dupont - Sage | 14:10:00 | 14:35:48 | 14:50:15 | 15:19:44 | 15:35:43 | 1:25:43 | 98 | 1:27:28 | 18 | 4 | 00:25:48 | 00:14:27 | 00:29:29 | 00:15:59 | 00:40:15 | 00:45:28 |
| Prouty - Union Maid | 14:00:00 | | | | | | | | 19 | 3 | | | | | | |
| | | | | | | | | | | | | | | | | |
| 13th August | Start | 1st 1/2 | lap | 3rd leg | finish | elapsed | handicap | Corrected | Place | Points | 1st leg | leg 2 | 3rd half | 4th leg | el 1st lap | elap 2nd lap |
| Loney - Tarka | 14:15:00 | 14:32:50 | 14:56:13 | 15:11:28 | 15:30:33 | 1:15:33 | 89 | 1:24:53 | 6 | 5 | 00:17:50 | 00:23:23 | 00:15:15 | 00:19:05 | 00:41:13 | 00:34:20 |
| Maslen - 1st Place | 14:05:00 | 14:23:15 | 14:49:47 | 15:07:37 | 15:30:41 | 1:25:41 | 106.7 | 1:20:18 | 1 | 10 | 00:18:15 | 00:26:32 | 00:17:50 | 00:23:04 | 00:44:47 | 00:40:54 |
| Pattie-B Too | 14:05:00 | 14:23:54 | 14:52:07 | 15:11:06 | 15:35:28 | 1:30:28 | 106.7 | 1:24:47 | 5 | 6 | 00:18:54 | 00:28:13 | 00:18:59 | 00:24:22 | 00:47:07 | 00:43:21 |
| Blachly - Melody | 14:15:00 | 14:32:04 | 14:53:39 | 15:09:55 | 15:29:23 | 1:14:23 | 90.6 | 1:22:06 | 2 | 9 | 00:17:04 | 00:21:35 | 00:16:16 | 00:19:28 | 00:38:39 | 00:35:44 |
| Schwabe - Humble Pie | 14:05:00 | 14:20:03 | 14:40:18 | 14:57:00 | 15:18:24 | 1:13:24 | 87.7 | 1:23:42 | 3 | 8 | 00:15:03 | 00:20:15 | 00:16:42 | 00:21:24 | 00:35:18 | 00:38:06 |
| Bridgeman - Rosamund | 14:05:00 | 14:25:36 | 15:04:44 | 15:22:21 | 15:47:08 | 1:42:08 | 104.5 | 1:37:44 | 10 | 1 | 00:20:36 | 00:39:08 | 00:17:37 | 00:24:47 | 00:59:44 | 00:42:24 |
| Macy - Cleo | 14:05:00 | 14:24:03 | 14:55:01 | 15:13:00 | 15:34:47 | 1:29:47 | 106 | 1:24:42 | 4 | 7 | 00:19:03 | 00:30:58 | 00:17:59 | 00:21:47 | 00:50:01 | 00:39:46 |
| Whitehead - Spindrift | 14:05:00 | 14:24:26 | 14:51:49 | 15:09:30 | 15:28:20 | 1:23:20 | 97 | 1:25:55 | 8 | 3 | 00:19:26 | 00:27:23 | 00:17:41 | 00:18:50 | 00:46:49 | 00:36:31 |
| Prouty - Union Maid | 14:15:00 | 14:35:05 | 15:04:13 | 15:22:41 | 15:50:04 | 1:35:04 | 105 | 1:30:32 | 9 | 2 | 00:20:05 | 00:29:08 | 00:18:28 | 00:27:23 | 00:49:13 | 00:45:51 |
| Goiran - 2nd Chance | 14:15:00 | 14:30:35 | 14:56:12 | 15:11:50 | 15:32:19 | 1:17:19 | 90 | 1:25:54 | 7 | 4 | 00:15:35 | 00:25:37 | 00:15:38 | 00:20:29 | 00:41:12 | 00:36:07 |
| | | | | | | | | | | | | | | | | |
| 20th August | Start | 1st 1/2 | lap | 3rd leg | finish | elapsed | handicap | Corrected | Place | Points | 1st leg | leg 2 | 3rd half | 4th leg | el 1st lap | elap 2nd lap |
| Humble Pie | 14:00:00 | 14:24:27 | | | 14:44:55 | 0:44:55 | 87.7 | 0:51:13 | 1 | 5 | 00:24:27 | 00:20:28 | | | 00:44:55 | |
| Flying Scot | 14:00:00 | | | | rtd | | | | 5 | 1 | | | | | | |
| Cleo | 14:00:00 | 14:30:56 | | | 14:57:52 | 0:57:52 | 106 | 0:54:35 | 2 | 4 | 00:30:56 | 00:26:56 | | | 00:57:52 | |
| Spindrift | 14:00:00 | 14:31:59 | | | 14:56:16 | 0:56:16 | 97 | 0:58:00 | 3 | 3 | 00:31:59 | 00:24:17 | | | 00:56:16 | |
| Pattie-B Too | 14:00:00 | 14:35:01 | | | 15:00:17 | 1:00:17 | 102 | 0:59:06 | 4 | 2 | 00:35:01 | 00:25:16 | | | 01:00:17 | |
| | | | | | | | | | | | | | | | | |
| 27th August | Start | 1st 1/2 | lap | 3rd leg | finish | elapsed | handicap | Corrected | Place | Points | 1st leg | lap 1 | 3rd half | 4th leg | el 1st lap | elap 2nd lap |
| Ky - Gypsy | 13:50:00 | 14:16:13 | 14:35:10 | 15:04:54 | 15:23:29 | 1:33:29 | 139 | 1:07:15 | 1 | 9 | 00:26:13 | 00:18:57 | 00:29:44 | 00:18:35 | 00:45:10 | 00:48:19 |
| Schwabe - Humble Pie | 14:00:00 | 14:17:02 | 14:30:02 | 14:46:36 | 14:59:40 | 0:59:40 | 87.7 | 1:08:02 | 2 | 8 | 00:17:02 | 00:13:00 | 00:16:34 | 00:13:04 | 00:30:02 | 00:29:38 |
| Loney - Tarka | 14:10:00 | 14:28:17 | 14:42:09 | 15:01:02 | 15:15:21 | 1:05:21 | 89 | 1:13:26 | 3 | 7 | 00:18:17 | 00:13:52 | 00:18:53 | 00:14:19 | 00:32:09 | 00:33:12 |
| Whitehead - Spindrift | 14:00:00 | 14:20:58 | 14:36:13 | 14:56:30 | 15:11:38 | 1:11:38 | 97 | 1:13:51 | 4 | 6 | 00:20:58 | 00:15:15 | 00:20:17 | 00:15:08 | 00:36:13 | 00:35:25 |
| Kidger - Flying Scot | 14:00:00 | 14:21:01 | 14:35:51 | 14:56:20 | 15:11:18 | 1:11:18 | 95 | 1:15:03 | 5 | 5 | 00:21:01 | 00:14:50 | 00:20:29 | 00:14:58 | 00:35:51 | 00:35:27 |
| Whitehead - Cleo | 14:00:00 | 14:23:21 | 14:40:17 | 15:02:35 | 15:19:53 | 1:19:53 | 106 | 1:15:22 | 6 | 4 | 00:23:21 | 00:16:56 | 00:22:18 | 00:17:18 | 00:40:17 | 00:39:36 |
| Bristol 32 - Ghost Dancer | 14:10:00 | 14:30:18 | 14:45:00 | 15:04:26 | 15:19:25 | 1:09:25 | 91.9 | 1:15:32 | 7 | 3 | 00:20:18 | 00:14:42 | 00:19:26 | 00:14:59 | 00:35:00 | 00:34:25 |
| J&J Price - Pattie-B Too | 14:00:00 | 14:25:17 | 14:41:54 | 15:04:24 | 15:22:08 | 1:22:08 | 106.7 | 1:16:59 | 8 | 2 | 00:25:17 | 00:16:37 | 00:22:30 | 00:17:44 | 00:41:54 | 00:40:14 |
| Dupont - Sage | 14:10:00 | 14:33:35 | 14:50:23 | 15:11:46 | 15:28:40 | 1:18:40 | 98 | 1:20:16 | 9 | 1 | 00:23:35 | 00:16:48 | 00:21:23 | 00:16:54 | 00:40:23 | 00:38:17 |