RACE REPORTS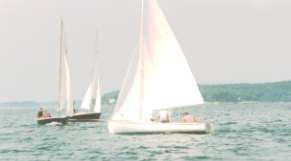 High Jinks on the High Seas
15th July 2001
I tell you friends, dastardly forces are at work in the New Meadows. Forces that can pick up a buoy that was only placed in the morning, change itís color and move it against the tide to an entirely different location. Forces that can tell all the sailors in a race where this buoy has moved to except the guy that put it in. Forces that can turn a flat calm into a 15 knot wind and stop supposedly educated people being able to read.
A fine turn out of 9 boats arrived at or soon after 14.00 hours today for the start of the second 2001 Brightwater/Wynburg race. There were some new boats out for the first time this year, some old boats, some new faces in some old boats and some old faces in some old boats but none older than Eric (Black hands) Maslen who may not sleep at night after hatching a devious plot to confound the most handsome and kind sailor on the River, Nick (Thatís my buoy) Price and his child bride crew, Wendy (My lips are smiling but my eyes are sad) Price.
Things seemed normal at the start with the usual stragglers, today the Kelly boys stepping in admirably to fill the absent Charlie (Is there a race today?) Whiteheads shoes. Sailing Silky for the first time for time for nearly a year Paul & Tom (Talented progeny of the old maestro Dick) Kelly recovered from a late and slightly misguided start to finish a creditable fifth overall.
Pattie B ll led away after a good start and was comfortably ahead at the weather mark with little foretaste of what was to come. The Indian went single file past all the other boats in the fleet to round second just ahead of Carpe (Seize the board) Plankum whose young crew were living up to the promise they had given us a glimpse of last week. Unfortunately, not realising that it was a proper race they stopped for a paddle half way round and never quite recovered after their time at the beach. Sage was another boat that was slightly backward about crossing the line but steadily made up for their disability to finish 1st on Handicap ably sailed by Phil (If thy prop offends thee) Goiran.
Rink (Iím no grass) Dupont was with Gus (My eye ) Manomaitis and managed to sail a canny race while keeping an eye (Gusís?) on other transgressions. 3rd place was their reward and overall lead of the championship at this early stage.


One of two solo sailors, Jim (It just wonít capsize) Loney was using the day to fine tune the Bull Ship and check on the form of other sailors. Jim is too old a hand to linger at the back of the fleet for long.
Meanwhile Pattie B ll set a blistering pace and was 4 minutes ahead after half a lap and set off to ďScoutĒ the coast by Rich Mans House for the orange buoy that should have been there (indeed was there earlier in the day). After hours of fruitless searching they rounded a lobster pot near the house and selflessly set off to warn the other competitors of the missing buoy, deviating still farther from the best course to try and warn their fellow competitors of the lack of a mark. The others without exception seemed to be going out of their way to avoid the hapless duo

sailing close hauled away from the supposed course in a concerted move which finally brought home the awful realization that a sly and underhand plot had been hatched in an effort to try and cheat the rightful winners of their deserved glory. Eric (Two anchors) Maslen was later revealed to be the ring leader by the black paint on his hands which seemed to match the colour of his heart. Teaching his young crew to behave in such an underhand manner was not much of an example for Chris (He made me do it) Kidger. Lets hope it doesnít lead to a life of grime.

Hired skipper Peter (Cut of your jib) Blachly sailed little Moonbeam to an impressive 4th overall and 2nd on Handicap, earning his employers a valuable 7 points to put Moonbeam just one off the lead after two races. His sponsors, part of the fabulously talented Whitehead (Singing, flying, sailing, but not reading) Dynasty went for glory in their other yacht the highly regarded Indian having itís first outing of the year and showing all itís old pace and skill on a beautiful day to cross the line first, holding off a late challenge from the still reeling Pattie B ll.
Eleanor & Rollie (Quick eye) Johnson were determined to show us what could be done with flag, stop watch and pen and the megabytes of data they collated had this writers computer at melt down trying to assimilate the information.
A fine, sunny days sail in a good 15 knot wind with a welcome respite from the thunder of the preceding week.
| | | | | | | |
| --- | --- | --- | --- | --- | --- | --- |
| Boat | Finish | Adjusted | H Cap Pos | Points | Total points | New Handicap |
| Pattie B ll | 3.14.00 | 3.14.00 | 8th | 2 | 6 | 0 |
| Sage | 3.20.00 | 2.54.00 | 1st | 9 | 9 | -7 |
| Indian | 3.13.40 | 3.03.40 | 6th | 4 | 4 | -3 |
| Carpe Diem | 3.29.17 | 3.01.17 | 4th | 6 | 8 | -12 |
| Catspaw | 3.25.20 | 2.59.20 | 3rd | 7 | 12 | -10 |
| Bull Ship | 3.40.40 | 3.22.40 | 9th | 1 | 1 | -13 |
| Scout | 3.36.30 | 3.02.30 | 5th | 5 | 6 | -15 |
| Moonbeam | 3.21.40 | 2.57.40 | 2nd | 8 | 11 | -9 |
| Silky | 3.23.12 | 3.05.12 | 7th | 3 | 3 | -8 |
Brighwater / Wynburg race shock 8th July 2001
On a cool grey day 5 crews turned up for the first race of the 2001 season. Little did they know of the drama that was to unfold when the race was turned on itís head later in the day. Pre-race favourite Pattie B ll was looking confidant, (some said smug) during the build up, cruising up and down, with an occasional break to pass advice to some of the other crews who were working desperately to ready themselves for the off. They struck out badly later in the race.

Carpe Diem were fitting new battens to their OíDay racer a move which should have paid off handsomely towards the end of the race apart from the aforementioned shock. Lori (getting round any mark will be a bonus) Kidger and her experienced young crew Christopher (Mars Bar? I donít mind if I do.) only just made a late start but improved throughout and will be a hard act to beat next time up at the plate.

Celia Harris, seen swinging hard in practise the day before, in gale force winds, had brought an oversize hankie to fly on Moonbeam on the downwind leg, a trick that hadnít been tried since the legendary Dick Kelly flew one many years ago. Whatever happened to him? Moonbeam was searching all the bases for that edge but couldnít quite get to grips with last years champion boat, Pattie B ll which lead the field off to the windward mark as expected.

The wily Dupont crew of Rink & Callie had Dogspaw moving deceptively fast and Lucy the Lawyer saw that their campaign would start with a bangrk.

Eric, (new boat this year?) Maslen was out with a huge crew (I tell you Scott is enormous) was looking for a big hit and strong winds but was sadly disappointed by the light airs that persisted throughout the race. Pattie B ll led comfortably across the line followed by Moonbeam, Catspaw, and Carpe Diem, with Scout finishing off proceedings. You think the race was over? Not a bit of it. When crews gathered at the de-briefing it was revealed that Lucy the Lawyer had pointed out to her crew in the locker room, donít ask me how, that all the other crews had misread the sailing instructions (even the clot that wrote them) and were all bumped a place putting Catspaw at the top of the litter.

!st Catspaw 5 points 4th Carpe Diem 2 points

2nd Pattie B ll 4 points 5th Scout 1 point

3rd Moonbeam 3 points

HOME
Local links News Committees
Race reports 2003 Race reports 2002 Race reports 2001 1999
Boats Boats 2001 Photos Photos 02 Photos 03